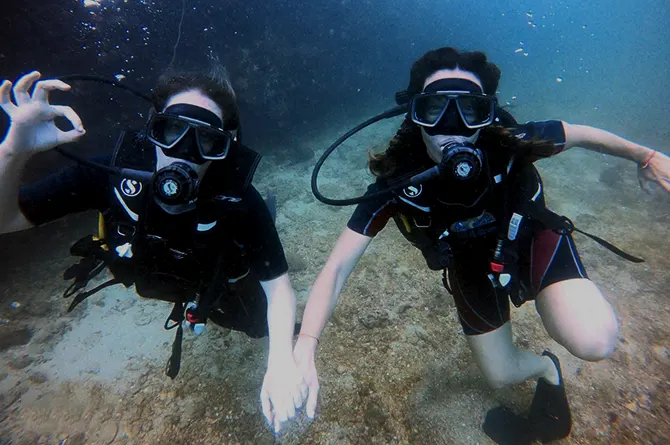 FOR BEGINNERS (NO EXPERIENCE REQUIRED)
Poolside tuition on diving techniques and equipment, followed by a scuba dive in a swimming pool with a BSAC-qualified instructor to make sure you get maximum enjoyment from your first scuba dive. From this can get a simple idea about what is try drive. As an experience, try Dive can help you save time and money by finding out in advance if you like diving. In short if you want to check and if you like to try diving, you can experience this course easily. This is an enormous chance to beginners also. And also, you can experience how breathe in water and how balance your body in water. After a few minutes, most participants can be realized that how easy diving. Not only that If that works, most of the participants are really cheerful and never forget that first unforgettable amazing experience during under water. The special thing is here is you can learn the basic safety guidelines and skills to dive safely under the experienced professional diver.
Fun dives are intended for those scuba divers who already have their PADI Open Water Diver Certification, have adequate swimming skills, and are in good physical health. Don't miss out on your opportunity to see the majestic whale shark as it migrates past Utila numerous times per year. Other wonders you are likely to encounter are dolphins, eagle rays, manta rays, turtles and a wide variety of reef dwelling creatures and if you watch them obviously you can understand how creative and how wonderful under water creatures. It's another world to see.
Blue Deep Diving Stations can offer you different diving packages according to your needs and how much fun you are ready to have with us. Come with us and join!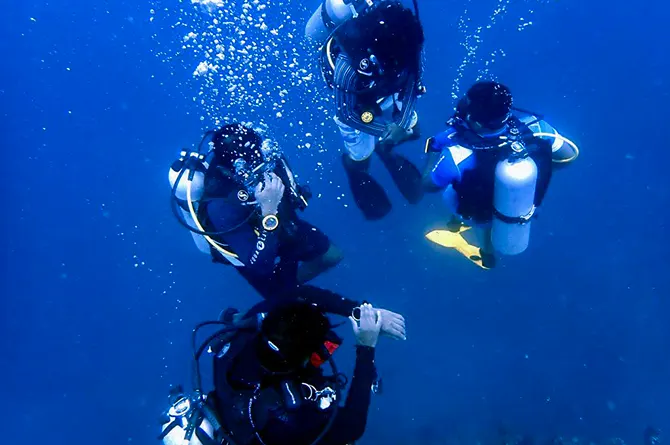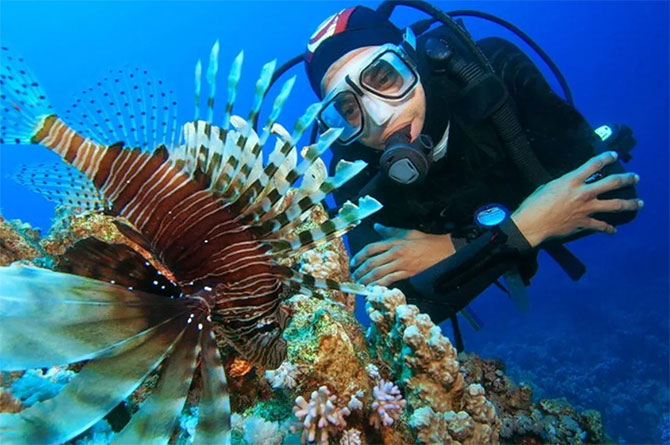 A program where divers receive the assistance and supervision of a dive professional in a pool or shallow water environment while they review the basic skills of diving, means Refresher Dives. The Scuba Refresher Course is amazing and fantastic as it covers all the scuba diving training you had before. In this Scuba Refresher Course, you will review your scuba skills, scuba theory knowledge, and other scuba review topics to make sure you can comfortably and more importantly safely continuing diving. This is a supreme chance to check your knowledge and the skills about diving.
We offer Private Coaching For all who feel insecure in any way and who want to develop their diving skills individually or if you need a little bit extra sense of security, Blue Deep diving, you have one of our PADI Divemaster or Dive Instructor specially for you. This diving method is a very safety full, personal, educational thing than others! When you dive, you can accompany adjust individually to YOU and can accompany and lead you from your personal dive instructor. Don't hesitate to Reserve the PADI Professional master only for you and increase your confidence and also your talent!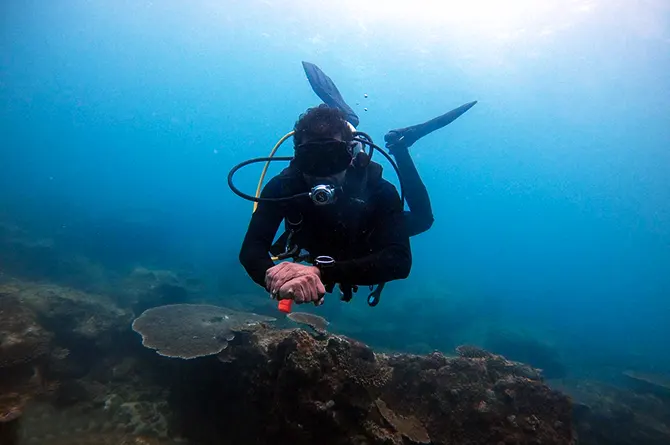 This course is  a subset of the PADI Advanced Open Water Diver Course and also  Have you always wanted to try digital underwater photography, fish identification or dry suit diving? There's a long list of scuba adventures you can take part in during this program. There are some great tips and techniques that are simple to implement and can drastically improve your underwater photography. If you love taking pictures, I highly recommend this dive. Complete three Adventure Dives and earn the Adventure Diver certification.
At our nearly twenty Trincomalee Dive Sites with different depth from 6 to 30 m we offer Reef Dives, Rock Dives, Deep Dives, Night Dives and combined Diving & Snorkeling Trips to the famous Pigeon Islands. Not only that Pigeon island south reef, Pigeon island east rock, Pigeon island north reef, Pigeon island west rock,
Blacktip point, Coral island north reef, coral island south reef, Swami rock, Coffin ray point, Mutti gala, White Rock, Sithanmpara, Pigeon Island Tour,
SS AVA and H.M.S. Diomede are some of special places to see in Trincomalee and if you come in and you can enjoy them as you wish.
Not only that Kirala Gala and Black Coral Point are the main attractions in the Hikkaduwa to dive and Hikkaduwa Beach in Sri Lanka is an enchanting shoreline to contribute non-dive vitality where you can also learn about Hikkaduwa's history and culture at the Tsunami Honganji Vihara and Seenigama Muhudu Viharaya. There is furthermore a Turtle Hatchery and the Coral Sanctuary which justify a look. And Hikkaduwa moreover gets other irregular other pelagic creatures like whale sharks and manta essentially an extraordinary reward! So, it is not only about Hikkaduwa scuba diving but also other amazing experiences!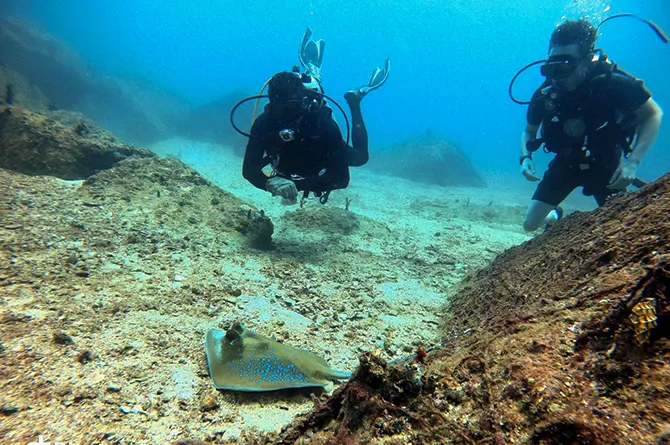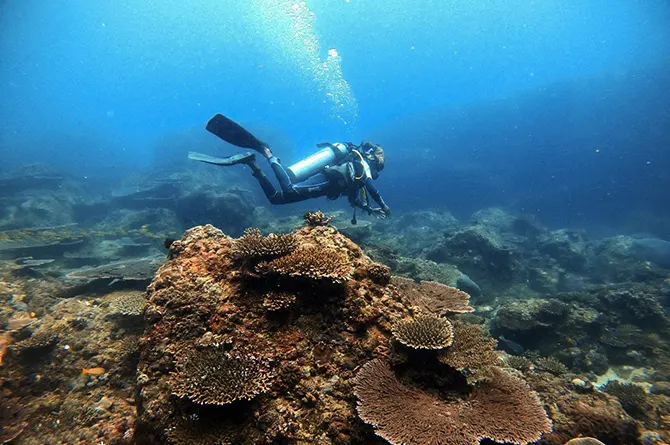 Deep Diving means what Scuba diving allows a diver to explore at much greater depths than snorkeling allows for. A scuba diver will be a self-contained underwater breathing supply so that they can be completely independent of the water's surface and breathe underwater as they explore. Different divers have different ideas about when a dive is considered a deep dive. To put it in perspective, an Open Water Diver is certified to dive to 18 meters and an Advanced Open Water diver is certified to dive to 30 meters. As part of the Advanced Open Water course a student will complete a Deep Dive to 30 meters, so for an Advanced Open Water Diver any depth greater than 18 meters could be called deep.
Night diving is underwater diving done during the hours of darkness. It frequently refers specifically to recreational diving which takes place in darkness. The diver can experience a different underwater environment at night, because many marine animals are nocturnal. There are additional hazards when diving in darkness, such as dive light failure. You can choose to dive at night because they find it more peaceful and relaxing than diving during the daytime. Additionally, many creatures that are typically shy or nocturnal come out at night, making for a richer diving experience.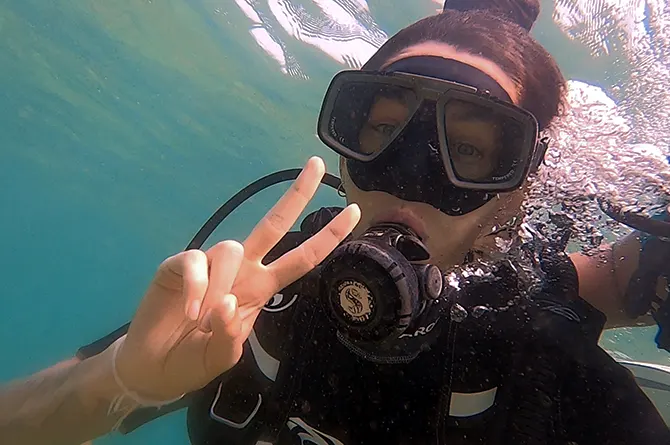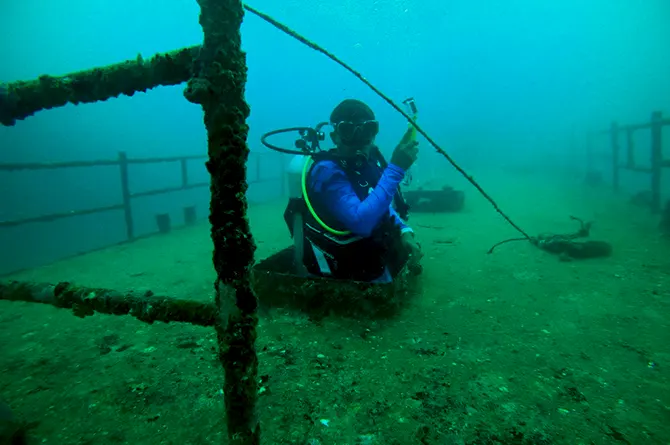 Wreck diving is a type of recreational, and sometimes technical, diving used to explore the wreckage of ships, aircraft and other man-made structures. Almost every scuba diving destination in the world offers some form of wreck diving. For many areas this is as an alternative to diving on coral and other reefs; in other areas, the wrecks are the only diving attraction. Many popular diving wrecks have suffered over the years due to the depredations of souvenir hunting divers. In the past, many areas have had a culture of artefact removal from wrecks, but there has been far greater emphasis on preserving the historical nature of the wrecks.